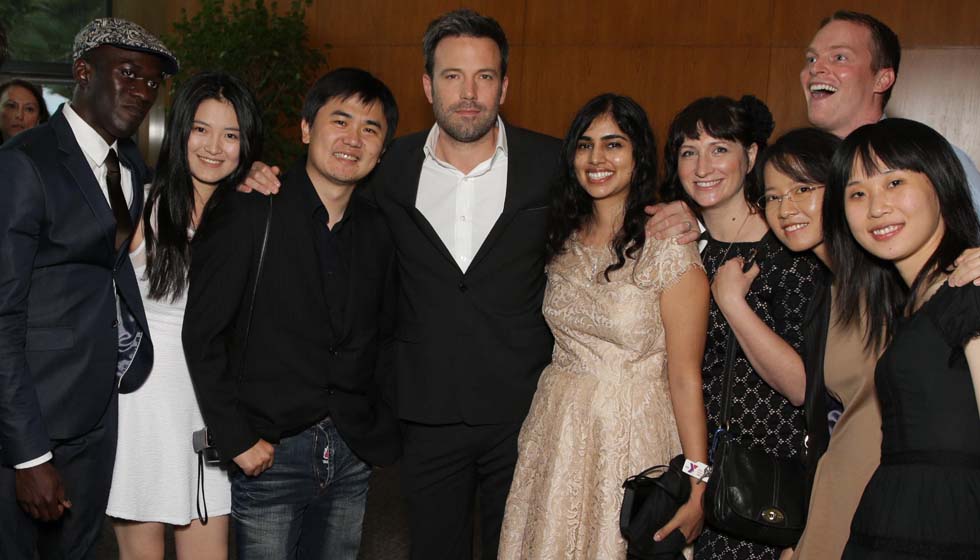 The feature screenplay of JAYA, written by Puja Maewal, is selected for the WRITERS GUILD OF AMERICA'S Feature Access Program. Read about it in Deadline.
The feature screenplay of JAYA is selected for FILM INDEPENDENT's Screenwriting Lab.
The feature screenplay of JAYA is a Semifinalist for the Academy Nicholl Fellowship in Screenwriting.
Nishat Kurwa of THE AEROGRAM reviews JAYA.
Blogger Glen Golightly interviews Puja Maewal at the Indian Film Festival of Los Angeles.
JAYA is featured in BROWN GIRL MAGAZINE.
JAYA wins INDIEWIRE'S Project of the Week.
The Renton Reporter describes JAYA's Seattle Premiere on Opening Night of the Seattle South Asian Film Festival.
JAYA wins the APCA Award at CAAMFest for Best Student Film!
INDIA POST calls JAYA "beautiful and surprising." Read about it and the other Seattle South Asian Film Festival winners here.
Puja Maewal is part of an online panel discussion about international filmmaking, hosted by The Wire's Gbenga Akinnagbe.
JAYA wins the Jury Award at the DIRECTORS GUILD OF AMERICA Student Awards.
JAYA is a BAFTA U.S. Student Award Finalist.
JAYA is a Semifinalist in the 40th Annual STUDENT ACADEMY AWARDS.
The JAYA feature screenplay is a Quarterfinalist in both the BlueCat Screenplay Competition, from over 4400 submissions, and Final Draft's Big Break Screenplay Contest.
The feature screenplay of JAYA is a Semifinalist in the Nantucket Screenwriters Colony.
JAYA wins "Best Film" and "Best Screenplay" at UCLA Directors Spotlight at the DGA, with special guest Ben Affleck.
JAYA wins a CINE Golden Eagle Award. (Past winners have included Steven Spielberg and Ken Burns.)
JAYA receives a CAUCUS GRANT AWARD at the Beverly Hills Hotel! Check out the Hollywood Reporter article about it.
JAYA is a NATIONAL SHORT FILM COMPETITION FINALIST at the Academy-qualifying USA FILM FESTIVAL!
MISS MALINI calls JAYA "intriguing" in her famous blog on Bollywood!
The UK's popular FILM NEWS magazine calls JAYA "explosive!"
JAYA's successful crowd-funding campaign is featured on Yourstory.com.
INDIA WEST does a piece on JAYA.
JAYA and Director Puja Maewal are profiled in the UCLA Daily Bruin!
Please check out our Indiegogo crowd-funding campaign.